Year over year statistical data for Lake County ending March 2022
This report is generated around the 20th of each month once the previous months numbers have been posted. What we see here is a report generated for the Solano County Housing Market through March 2022. So we are always looking a month behind. Our statistics are derived from the California Regional Multiple Listing Service (CRMLS)  This is the Multiple Listing Service provider for all real estate brokerage in Lake County. If you have questions or wish to know a more specific account of your properties value and the timing of either selling or buying we are always happy to jump on a Zoom or meet with you at your property to evaluate and discuss a strategy. We can be reached via cell/text 707.580.3499 or email us at concierge@elitepartnersrealestate.com
Subscribe to Lake County Housing Report
Sales prices continue upward although at a much slower pace. In March 2022 we closed the month out with a sales price of $320,000. This is an increase of +6.7% year over year, which is about 1/3rd the increase March 2020 to March 2021. Still this is substantial given the run we have had in appreciation. In the last two years it has paid to own a home in Lake County. With a two year appreciation at +26.2% many of you have made more from your home than you did from your job. If you owned a home for $251,000 back in March of 2020 you have effectively earned $69,000 or $2,875 a month, or $718.75 a week, or $102.67 a day just for living in your home.  The single digit +6.7% appreciation year over year does indicate a significant slowdown coming.
We sold 120 properties in March 2022 which is an increase of +13.2% . Most of the surrounding counties have seen as much as a -22% decrease in sales volume year over year but Lake County continues to grow in sales.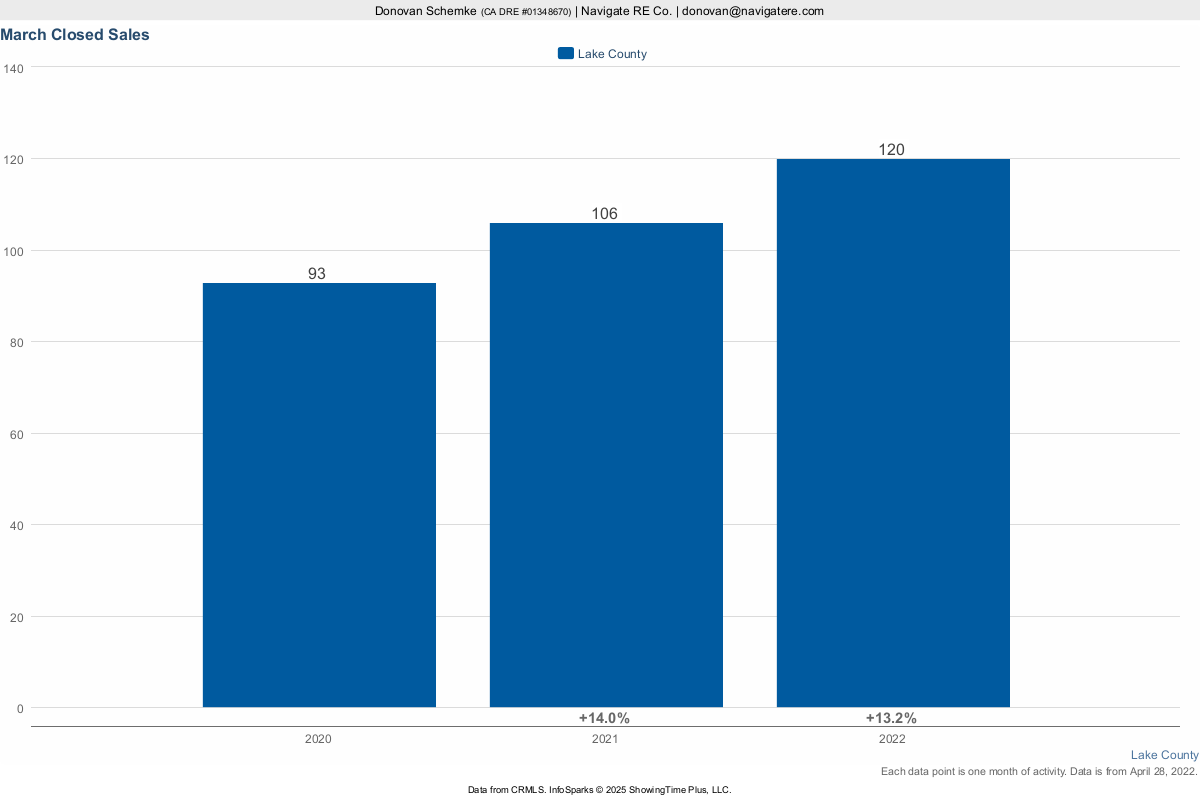 When we sell +13.2% more homes year over year one might think we would be out pacing our inventory. This is not the case. In March we had 349 active listings (Inventory) to choose from. This is a hug increase of +48.5%. Compound this number with a near equal increase from March 2020 to March 2021 and we start to see a picture slowly developing that is going to lead to depreciation if this pattern continues. When we list more homes (155 in March 2022 +29.2%) than we sell (120) this starts to effect prices.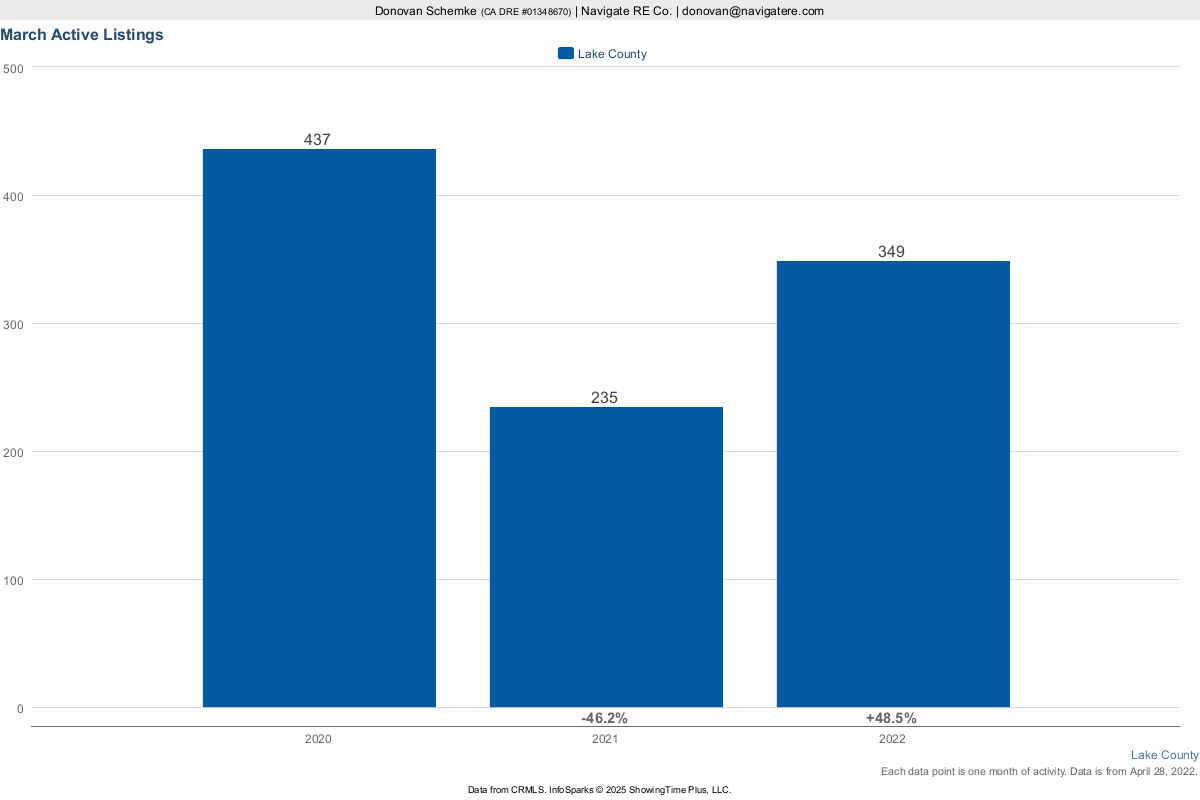 This is again compounded with interest rates rising to over 4%. A buyer who was qualified for $320,000 (The Median Price) a month ago is no only qualified for $290,000. This does not mean we are headed for a housing crash similar to the 2007 – 2009 recessionary crash buut it is a red flag.
This excess inventory has created a longer period for homes to sell. Our DOM (Days On Market) has grown year over year +127.8% to 41 days. This means it take the median home 41 days to find and accept a buyers offer. This number is still down substantial (1/3) from our 2020 high of 63 days. If you are a seller there are two things I want you to think about. First if you plan to sell do so as soon as possible to avoid future depreciation. Second, be prepared that it could be well pover a month. You will need a strong professional agent experienced in marketing, advertising and reaching Bay Area buyers to buy your home. Simply taking a handfull of photos with a cell phone, throwing it up on the MLS and seeing it sell is going to be tough. No more than ever WHO YOU WORK WITH MATTERS!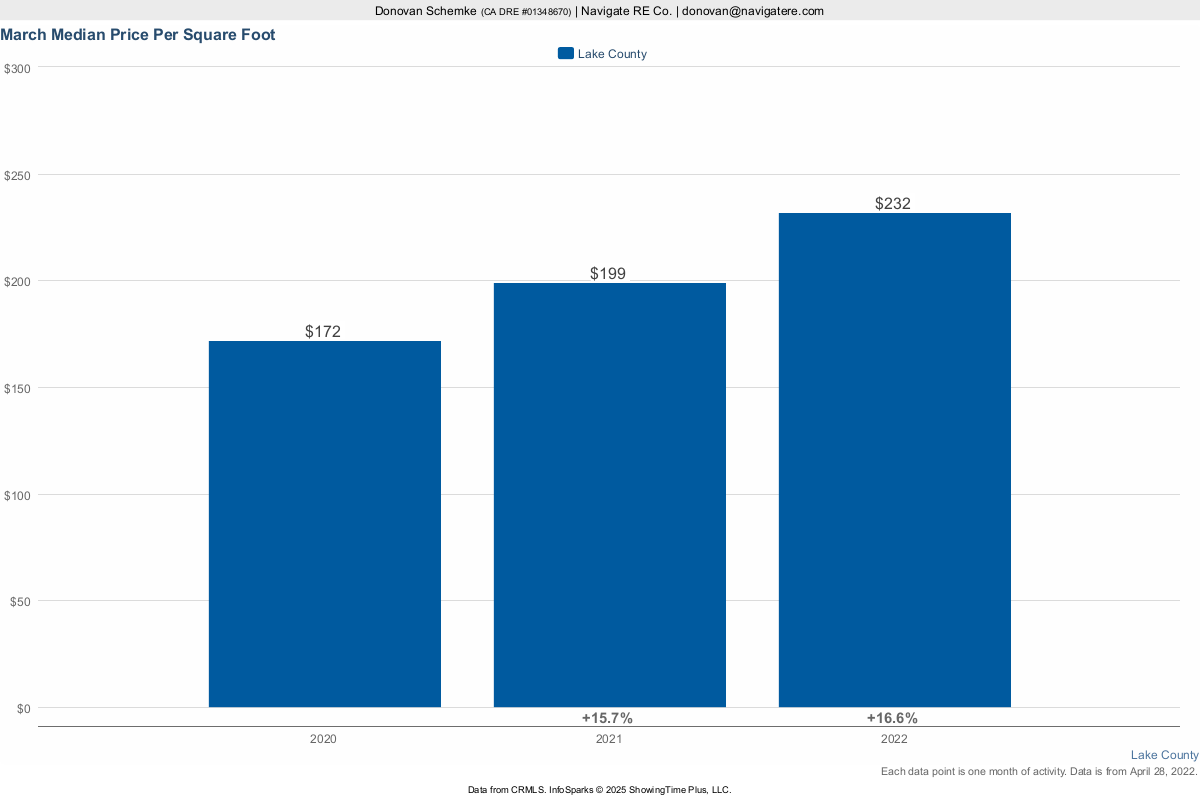 While our price per square foot has also risen steadly I do see this number coming down in the coming months. Certainly in 2023. I expect we will see as much as a 10% to 15% depreciation just based on the facts in this report. Our price per square foot rose +16.6% year over year to $232.00. I would caution sellers to use this number as a means to calculate what your home is worth. As you are most likely very aware, Lake County is different in many ways and no two properties are alike. Even Zillow gets it wrong most of the time. To accurately asses the value of your home seek a real estate professional. Again one who knows the market.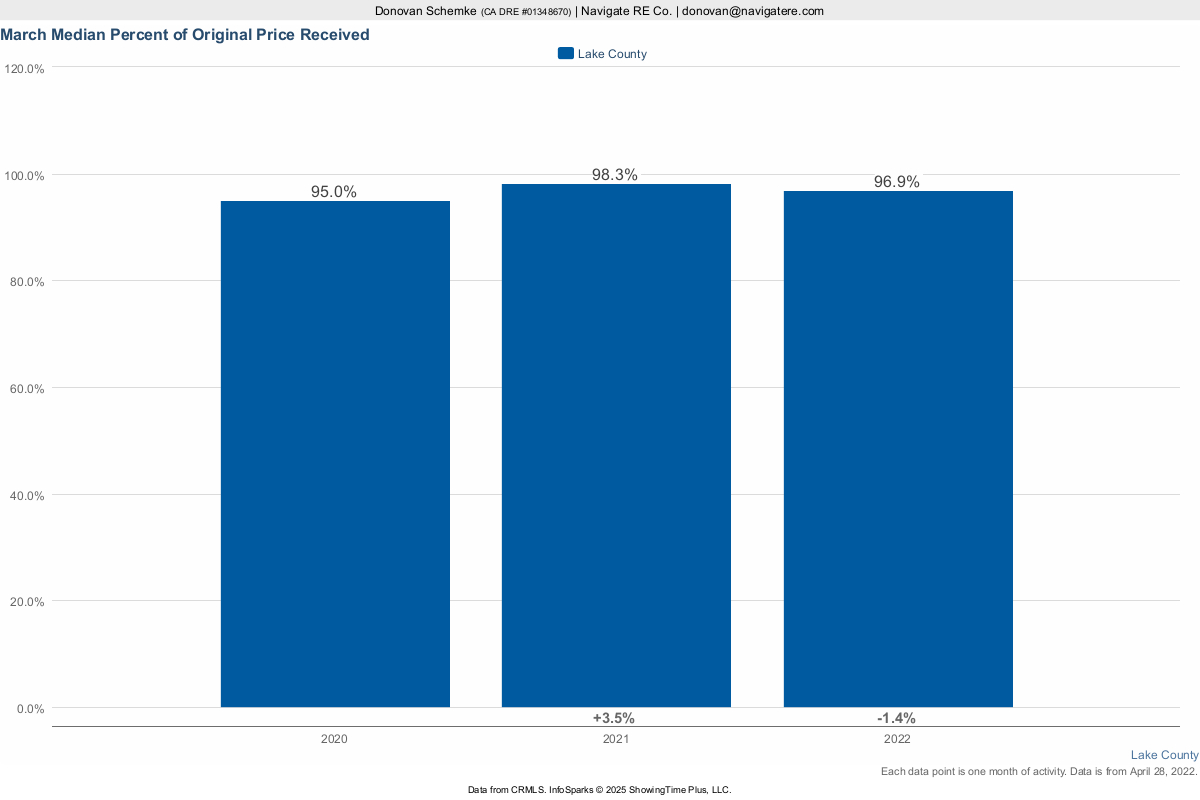 All this inventory, selling fewer homes than we list equates to a lower then expected list to sold price. We have currently moved down to a list to sold price of just 96.9%. This means a buyer can expect to pay as much as 4% less for the home you are listing. This does not mean you should list your home for more and hope a buyer will negotiate 4% and you will still be safe. Plain and simple fact is if you list a home 5,6, 8% above the market value it will still sell for -3.1% the market value. A smart seller working hand in hand with a smart agent will list your home slightly below market value and drive awareness to your home and thus giving you the very best opportunity to get as much value for you home as possible.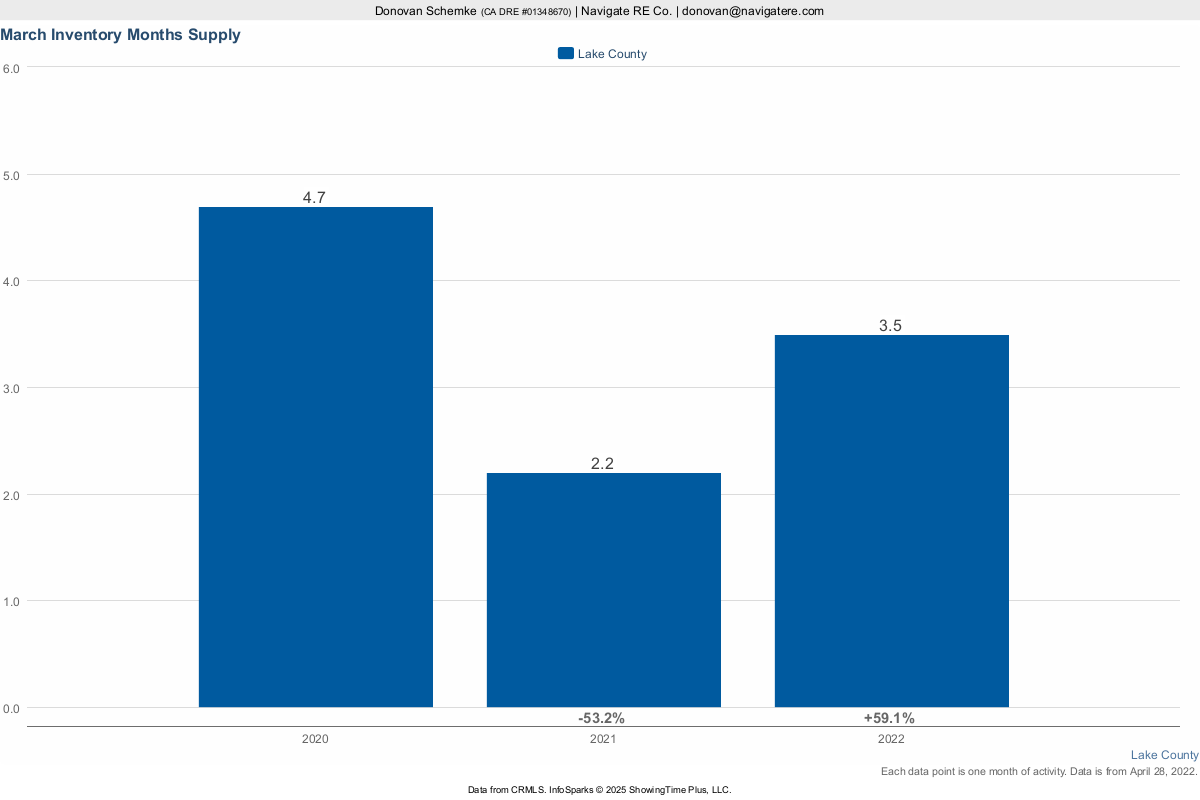 March 2022 supply has grown to 3.5 months worth of homes to sell. If you are a seller you need to rethink how you are approaching this market. A strong marketing plan, professional photos, drone aerial photos, 3D matterport, Video, Brochures, networking are the keys to success in a challenging market. Most agents are not even aware of the change in the market. They live in the here and now and are not looking at statistics and using these numbers to forecast where the market is going. Again we are not headed for a housing crash but it is going to take a two to three months to sell your home and you'll need someone willing to invest in advertising and marketing your home effectively or you'll be leaving money on the table. 
NO ONE SELLS MORE HOMES THAN RE/MAX. IN fact we have a near 2 to 1 market share over any other company. With Offices in Hidden Valley Lake, Lakeport, Sonoma, Napa, Marin, San Francisco the east Bay, Sacramento and over 140,000 agents worldwide in over 110 countries there simply is not a company that can bring this massive exposure to your property. Remember Zillow only exists in the US and Canada. NO WHERE ELSE! and If you want it sold call us. 707.580.3499
Local Housing Reports
Click below on the image to see detail on each community we serve. If you have any questions about the market, selling, or buying we are here to assist anytime.
Call us 707.580.3499
Each month we look at our most recent past months' activity and compare it to a year ago and devise an overview of how the housing market is moving. During what all of us will remember as the COVID-19 Pandemic year has actually produced some extraordinary housing statistics. You probably know a REALTOR or two who are crazy busy. This is true for most agents who have been in business for 7+ years. The flip side is there are many REALTORS not having such a great year. The reason behind the 7+ year assessment is those agents who have been in business for longer than 7 years have a tremendous amount of past clients to pull from. We live in a world of distrust. It seems everyone is skeptical about everything. Our elections are questioned, the pandemic we are in is questioned and it seems as though trust has become a very big issue. Newer agents rely heavily on open houses, lead generation, and gaining trust from new prospects. Today that is challenging because consumers have such distrust they are tuning to referrals and recommendations more than ever. As one of the largest and most successful real estate teams in the county, we see our fair share of the market. RE/MAX Gold in Lake County has a near 16.5% market share which is about twice as much as our closest competitor.  
Your Lake County Elite Partners
The opinions expressed in this report are those of Don McDonald, Founding partner, and REALTOR with RE/MAX Elite Partners brokered through RE/MAX Gold. They are not in any way intended to express what RE/MAX, RE/MAX Gold or any other agent or brokerage may think. It is my honest analysis backed but some market data. Check back each month around the 25th or so for an update as we continue down this path. 
About Elite Partners
The diverse and high performing team at Elite Partners epitomize integrity, energy, hard work, and service throughout each transaction they conduct. The Elite Partners have been responsible for over $1 Billion in transactions over the last 13 years and have ranked in the top ten worldwide within RE/MAX.
Dynamic leadership and creative marketing at its best.
Contact Elite Partners, Powered by RE/MAX Gold
Residential Services 707-580-3499
Commercial Services 707-410-5399 Broker
DRE LIC# 01215931