Year over year statistical data for Solano County ending March , 2021
This report is generated around the 20th of each month once the previous months numbers have been posted. What we see here is a report generated for the Solano County Housing Market through March 2021. So we are always looking a month behind. Our statistics are derived from the Bay Area Real Estate Information Services (BAREIS)  This is the Multiple Listing Service provider for all real estate brokerage in Solano County. If you have questions or wish to know a more specific account of your properties value and the timing of either selling or buying we are always happy to jump on a Zoom or meet with you at your property to evaluate and discuss a strategy. We can be reached via cell/text 707.580.3499 or email us at concierge@elitepartnersrealestate.com
ATENTION*****WE NEED SELLERS!!! I start this paragraph off with a loud beg for inventory. As I write this today, April 26, 2021 our entire inventory for Solano County sits at 297 residential properties for sale. This is 2/3rds of what we sold in all of March. Scary times for us agents. We sold 416 homes in March 2021 with more than 480 real estate agents transacting business you can do the math real fast and see how a lot of us agents are going to be starving in the coming months looking for homes to sell.  Ok, enough complaining. On a more serious note there is great cause for alarm with inventory levels remaining so low. Demand is through the roof and causing home prices to sore to what will most likely be un sustainable value. 
The graph above shows a huge rise in homes pending in march as well. 485 homes went pending in March and are set to move into the sold category for April numbers. This represents a +26.6% increase year over year. We are down -63% in new homes coming up for sale and our sold percentage is up +39.6%. 
The 163 homes for sale number represents the lowest inventory level we have seen in 15+ years.  Our average price per square foot has risen to $317.00 which is 17% appreciation year over year.
What does this mean for a seller and more importantly for the buyer out there. We are seeing 20, 30 even 40+ offers for homes. We listed a home this week and set showing appointments for two days Friday and Saturday only and the schedule is nearly filled and it's only Monday. There simply is not enough homes for all the buyers wanting to buy. the sad news is we have 100's of qualified buyers. They are pre approved to buy a home. Interest rates are so low that affordability is a huge driving force. The problem not all buyers are the same. Buyers who are VA (Veterans Loan qualified), FHA and or putting 3.5% down with no reserves to cover missed appraisals are losing out to the buyers who either are buying with cash or have $10k to $50k to make offers over the asking price and ensure they have reserves to pay the difference in the appraised value. 
Appraised values are hit or miss. Appraisers understand the market is artificially inflated do to demand and lack of inventory. So unless more inventory hits the market buyers will be left renting or stuck in their current home. There are many buyers who have homes to sell. However, this poses a problem fo them as well as sellers typically don't need to wait for a buyers home to sell when they have a dozen other offers with no contingencies.  It is a bit crazy.  Just last week we represented a buyer who against our better judgment offered 70,000 over the asking price ($20,000) more than any other buyer, removed all contingencies, including inspections and appraisal and even agreed to give the seller their good fait deposit upon acceptance to mitigate any risk. The seller chose a different buyer because "They had put the first offer in" and the seller felt they deserved the home. 
Our Days On Market (DOM) is down to 27 days. This too is a bit deceiving. As of right now there are 665 homes in some sort of pending, contingent accepted offer state in Solano County. 326 got offers within 10 days. 200 homes in less than 5 days. Is 5 days even enough time to effective expose a home? We can't argue that a seller may be leaving money on the table when they get 40 offers all over asking. 
How much more over asking are homes selling for. Based on the chart below a whopping 69% of all homes in March sold for 105.16% over their listed price. To buy a $500,000 home the buyer needs to expect to offer at least $525,800 if they want a chance. 
A quick note to sellers waiting for the right buyer to come along for your special home that every agent keeps telling you is over priced. Look at the last number on the chart above. Homes sitting on the market for more than 120 days get 92% of their listed price. Thats an 13 percent discount compared to homes priced right and selling in the first 30 days. 
The average sales price in Solano is now at $576,000 which is above the FHA allowable $550,850 price a buyer can qualify for with a minimum down payment of 3.5% without having to go conventional. This average price eclipses the inflated pricing we had back in 2006 prior to the big crash…
Our monthly supply of inventory as I have mentioned numerous times in this article is at about 1.5 weeks. Down 64.3% from a year ago. If nothing comes up for sale we will run out of homes to sell in 1 and a half weeks. Is it too late to apply for that stimulus checks us REALTORS missed out on?
Real Live 24/7 Market Conditions For All Zip Codes
Click on Button Below o See Yours
This Isn't a Bubble. It's Simply Lack of Supply. [INFOGRAPHIC]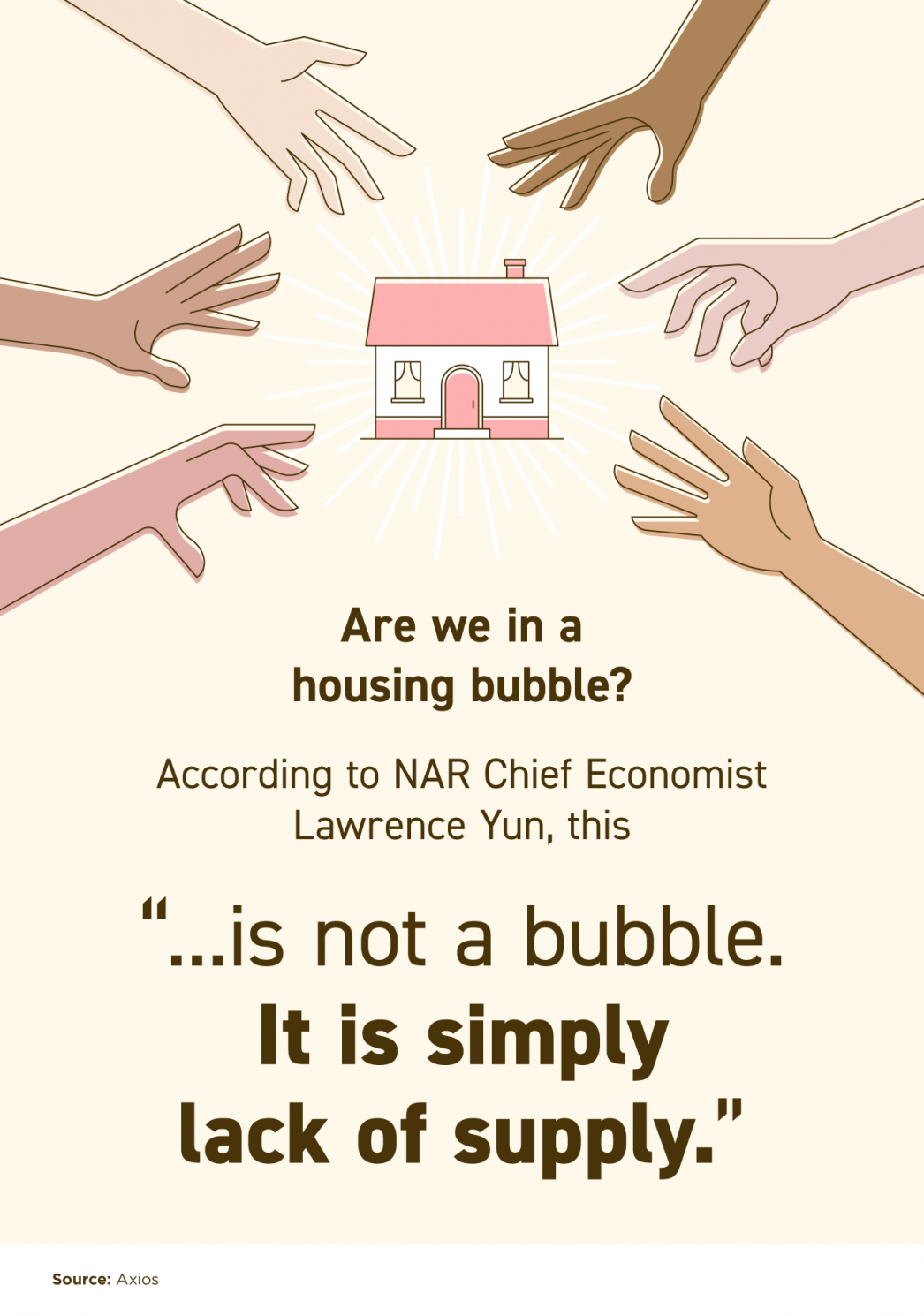 Some Highlights
In a recent article, Lawrence Yun, Chief Economist for the National Association of Realtors (NAR), discussed the state of today's housing market.
When addressing whether or not today's high buyer competition and rising home prices are evidence of a housing bubble, Yun said that this "is not a bubble. It is simply lack of supply."
Today's housing market is healthy, and rising prices are driven by real buyer demand. Let's connect to talk about the best ways to navigate such an energetic market.
The opinions expressed in this report are those of Don McDonald, Founding partner, and REALTOR with RE/MAX Elite Partners brokered through RE/MAX Gold. They are not in any way intended to express what RE/MAX, RE/MAX Gold or any other agent or brokerage may think. It is my honest analysis backed but some market data. Check back each month around the 25th or so for an update as we continue down this path. 
About Elite Partners
The diverse and high performing team at Elite Partners epitomize integrity, energy, hard work, and service throughout each transaction they conduct. The Elite Partners have been responsible for over $1 Billion in transactions over the last 13 years and have ranked in the top ten worldwide within RE/MAX.
Dynamic leadership and creative marketing at its best.
Contact Elite Partners, Powered by RE/MAX Gold
Residential Services 707-580-3499
Commercial Services 707-410-5399 Broker
DRE LIC# 01215931
Each month we look at our most recent past months' activity and compare it to a year ago and devise an overview of how the housing market is moving. During what all of us will remember as the COVID-19 Pandemic year has actually produced some extraordinary housing statistics. You probably know a REALTOR or two who are crazy busy. This is true for most agents who have been in business for 7+ years. The flip side is there are many REALTORS not having such a great year. The reason behind the 7+ year assessment is those agents who have been in business for longer than 7 years have a tremendous amount of past clients to pull from. We live in a world of distrust. It seems everyone is skeptical about everything. Our elections are questioned, the pandemic we are in is questioned and it seems as though trust has become a very big issue. Newer agents rely heavily on open houses, lead generation, and gaining trust from new prospects. Today that is challenging because consumers have such distrust they are tuning to referrals and recommendations more than ever. As one of the largest and most successful real estate teams in the county, we see our fair share of the market. RE/MAX Gold in Solano County has a near 15% market share which is about twice as much as our closest competitor.